Stress-related mental health conditions are one of the most talked about barriers to learning in recent years – but why is that and how can schools ensure they're promoting student wellbeing?
It's undeniable that we've seen a rise in the number of students affected by mental health conditions, with the latest NHS survey of young people's mental health revealing that one in eight 5-19 year olds in England had a diagnosable mental health condition in 2017. This isn't just limited to Secondary School students either, with 66% of mums and dads in a recent nationwide survey of Primary Schools claiming that their child regularly feels anxious about lessons, homework and social aspects of school.
In International Schools in particular, students face the additional challenge of experiencing a new country and culture, which can have a big impact on their level of stress and how they handle that. But whether anxiety and stress is caused by increasingly demanding examinations or navigating the modern school environment, it's clear that there is a growing need for schools to evaluate the procedures they have in place to ensure the wellbeing of every student.
However, with limited resources and hundreds of students under your school's care, it puts a huge amount of pressure on staff members to meet safeguarding requirements and provide each student with the best possible experience in their pathway to higher education.
So, how can you help ensure student wellbeing?
We've explored some of the things schools around the world are currently doing to improve student wellbeing, so you can see if any of these might work for you and your students. You can also learn about implementing a whole school approach to wellbeing here.
1. Mindfulness lessons
In schools around the world, some children are taking 10 minutes out from the hustle and bustle of the school day to reflect on their thoughts and feelings. Some ground themselves by thinking about their feet on the floor, while others concentrate on their breathing; a technique known as mindfulness.
In its simplest terms, mindfulness helps train your attention to be more aware of what is happening in the present moment, instead of worrying about what has already happened or might happen in the future.
Although there's not currently a wide base of evidence for the effectiveness of mindfulness in enhancing student wellbeing, the Department for Education is funding a major project to find the most effective ways of promoting positive mental health in schools, and one of the five approaches being trialled is mindfulness.
Despite the lack of evidence, schools don't seem to be deterred from adopting it as a strategy to improve the mental health of their students. The growing demand has resulted in a number of charities and organisations emerging to support the training and implementation of mindfulness activities in schools. One such charity is the Mindfulness in Schools Project.
"It's about training your attention to notice what is going on. If you are aware of that, you can choose how to respond, for example to manage the amygdala, the part of the brain that detects fear and prepares a response."
Richard Burnett, Teacher and Founder of the Mindfulness in Schools Project
Some schools are implementing this by having mindfulness drop-in sessions or converting first aid stations into mental and physical health stations with trained mental health first aiders present at break and lunchtimes. In doing so, they are ensuring that access to these stress-busting activities are more readily available for their students.
Not only this, but these could double-up to help your teachers and other members of staff. If they themselves also attend mindfulness classes or learn to lead them, it will introduce them to useful techniques that they could use to help improve their own mental health and wellbeing.
---
2. Wellbeing trackers
With student wellbeing considered such a crucial aspect of any school, you need to make sure you have effective systems and processes in place to monitor and manage it – and because resources and budgets are limited, automating as much of this where possible in essential.
So, many schools are looking towards digital platforms that integrate with their management information systems to record, monitor and manage all student concerns as and when they arise. Once such tool is our Wellbeing Manager which, built to adhere to UK and international safeguarding regulations, specifically caters to your teachers and Pastoral teams by providing them with everything they need to deliver proactive and preventative care for every student.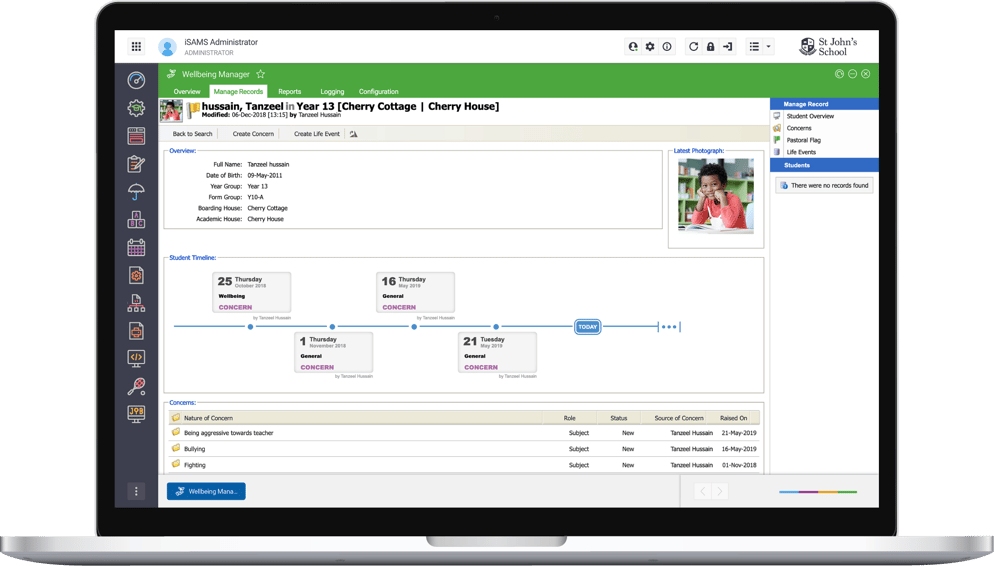 With software such as this, it's now possible for your school to log all safeguarding concerns against single or multiple students, set recommended and pursued actions, monitor and update their status, and notify key members of staff and parents or legal guardians – all in a single place.
---
3. Teacher training
On the day-to-day, your teaching staff are constantly on the front line, assuming responsibility for each child in their care. Because of this, they are often expected to be the first to witness signs of any wellbeing and safeguarding concerns – but, as with anything, they have a much better chance of noticing them when they know what it is they should be looking for.
To help support your teachers with this, you can invest in some thorough training for all staff members in your pastoral community. Whether this is during staff inset day or throughout the school year, to ensure everyone who needs to can access a session, training is essential to giving your teachers the knowledge they need and empowering them to better support their students.
---
4. Yoga
In some schools, such as Doull Elementary in Dover, USA, they are adopting widely recognised stress-combating activities such as yoga to curb some of the disciplinary problems they're facing and improve student wellbeing.
"What we love about yoga is that [our students] leave with some actual skills that can help them in life. Doing a math sheet or handwriting sheet didn't help them solve a problem, didn't help them recognise what anger feels like in their body."
Jo Carrigan, Principal at Doull Elementary School
Yoga is renowned for helping those who practice it to dial back both physical and mental difficulties, and research by Harvard Medical School has shown a correlation between regular yoga practice and increased wellbeing, including better sleep, better body awareness, weight loss, and greater happiness.
This means that in offering yoga sessions as an after-school activity, or perhaps even incorporating it into PE lessons, you could improve multiple areas of students' lives and teach them a key technique to manage stress. For example, improved sleep will give them more energy and focus during the day, and feeling better physically and mentally will encourage students to adopt better habits, including a healthier diet and more physical activity, all leading to a more positive cycle.
---
5. Tea & Talk sessions
One of the best ways to promote wellbeing in schools is to increase awareness and encourage a positive dialogue surrounding it by making support more accessible for those who are struggling.
Many schools find that an easy way of doing this is by hosting open "tea & talk" or "cake & chat" sessions, where students and staff members can come and talk to a qualified professional or share the difficulties they're facing with their peers, so they can workshop solutions together.
Because these can be run during break times and as after school sessions, they can operate parallel to study times without any disruption to an already busy academic timetable. Not only this, but their format is flexible enough that you can mould them to your school's safeguarding principles or your students' preferences.