With books to mark, lessons to plan, and student outcomes and wellbeing to continually monitor, staying after hours to meet varying deadlines has become part and parcel of a teacher's everyday job. We're keen to improve time management for teachers for every school.
But the majority of teachers are already suffering under enormous workloads, with one report revealing that 68% of ex-teachers left the profession due to an unmanageable volume of work.
With concerns that this could increase further as more look to leave teaching, schools need to start finding ways to help daily tasks become more manageable for their teaching staff – so they can spend more time doing what they're fundamentally trained to do: teach.
So, here are 7 time-saving features to support your teaching staff:
Take the register anywhere
Give your teachers on-the-go access to quickly record class and group attendance, marking students as present, absent or late in just a few taps via their mobile device. You even have self registration options.
Our iTeacher App gives teachers the freedom to take registers anywhere and at any time, whether it's in the classroom, on the playing field, or out and about on a school trip.
---
Check timetables quickly
Provide teachers with instant access to details of their current, next and future lessons, with clear visibility of their full timetable via their mobiles, iPads or other portable devices.
In the iTeacher App teachers can view key timetable information quickly and easily, including additional filtering by teacher, student, room, department, grade, year or set. This means they can quickly identify which lesson a student should be in or find a colleague.
---
Organise substitute teachers
These timetabling features give teachers the power to not only view their own timetables and those of their peers, but they also ensure quick access to substitution timetables where they can identify all rooms and teachers that are available within any given period. This will significantly improve the efficiency of organising cover for lessons, alleviating the inevitable back and forth email exchange between teachers and admin staff.
---
Send important communications promptly
Sharing information with the right people as soon as possible is one of the biggest challenges schools face, especially as they grow and expand across multiple sites.
That's why the iTeacher App enables teachers to send emergency broadcasts promptly to staff, students and parents via email and SMS, directly from their mobiles. With this integrated communications feature, it's never been easier to share key information with students and colleagues as soon as things happen. You also have the option to send helpful system messages and free push notifications to keep other teachers updated with important student information, school news and timetable changes.
---
View student profiles at any given time
We understand how important it is for your teachers to keep in touch with the progress of each of their students and year groups, which is why we've developed features that make student profiles readily available for teachers to view at any given time.
The iTeacher App helps teachers access academic, pastoral, medical and emergency contact information whenever they need it. Plus, the iFeed feature provides updates on any significant changes facing a student or group of students in that teacher's care. In flagging this, it's much easier for your teaching staff to support or reward students and address any issues as they're raised.
---
Award commendations and assign penalties instantly
Another vital aspect of school life, teachers are often unable to issue commendations and penalties to students instantly and instead have to set a reminder to do this at the end of the school day.
Now, using their iTeacher App, teachers can record commendations and/or penalties immediately or whenever it's most convenient for them, using the Reward & Conduct functionality available within the iSAMS system. They can also quickly log any accidents and incidents, informing relevant staff members as soon as they occur.
---
Write and review school reports on the go
School reports are renowned for being a particularly arduous but vital task for your teachers, so why not support them with this by giving them the ability to write and submit grades, assessments and school reports wherever they are.
With the iReport App, an ideal pairing to our iTeacher App, your teachers are able to: write school reports, input assessment grades, view the status of each report, mark reports as draft, incomplete or ready for proofreading, view students' past grades, and write and review any accompanying comments before submitting them.
This gives your teaching staff the opportunity to manage their time even more efficiently by completing time-consuming report writing tasks more quickly and at their own convenience.
How has this nifty App helped support teachers so far?
At iSAMS one of our key aims is to support your teachers, and we launched the iTeacher App specifically to help make day-to-day classroom tasks easier for them.
With this intuitive App, it's now possible for teachers to complete 70% of their daily tasks on-the-go, directly from their mobile device.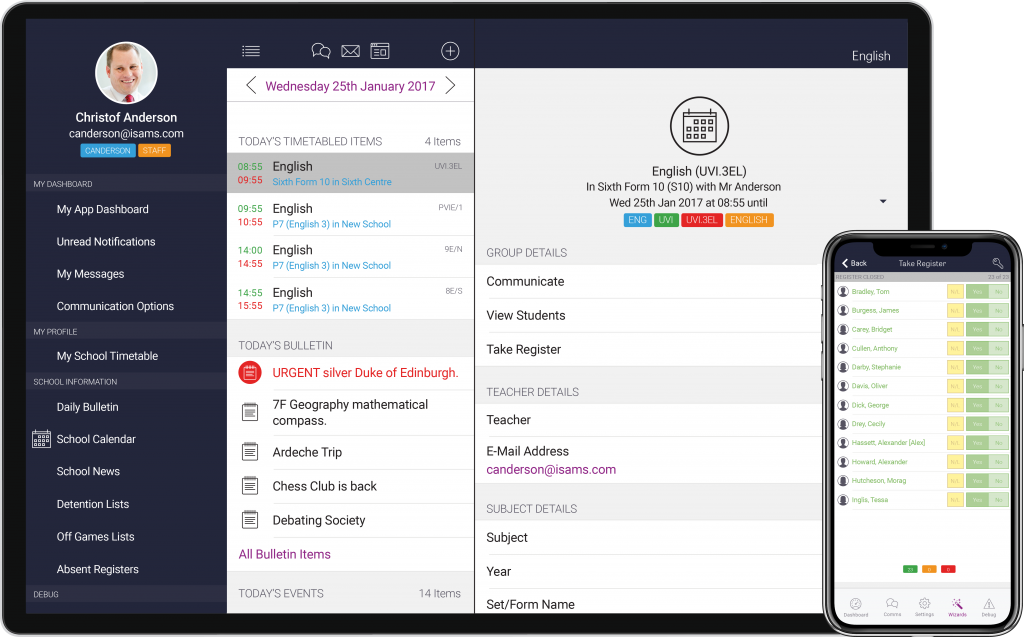 "Sherborne Girls was an early adopter of the iSAMS product and we have been very happy with how the product range has grown. The new iTeacher App allows teachers to register a class on their iPad, and to search and find pupil data information quickly."
Louise Orton, Deputy Head of Teaching and Learning, Sherborne Girls
Without having to rifle through reams of paperwork or find an available school computer and wait for it to power up, your teachers can get hold of all the information you need with just a few taps on their mobile or tablet. Just imagine how much more your teachers could do with that extra time…
"iSAMS is the most intuitive, flexible and user-friendly school MIS that I have come across in my career so far. They are progressive and up-to-date with the latest technologies and recently, with the release of their apps, it has positively transformed the way we manage various in-house processes."
Benoy IttyavirahDirector of IT, Wycliffe College
---