Our directors, Alastair Price and Jamie Reid, have seen iSAMS grow to over 1,400 schools since 2005 and are continually innovating to ensure that we bring the best software solutions with the best support to our independent and international schools.
We had the opportunity to ask them a few questions at this year's ISBA Annual Conference about the inspiration behind iSAMS and the continued evolution of the system. iSAMS will always look to find more ways to support new schools in their growth journeys, by providing a secure and customisable software solution.
You can read or watch below to find out what Alastair and Jamie had to say.
Alastair Price, Co-Founder and Product Director:
Q: What does iSAMS stand for?
iSAMS stands for internet-based schools admin management system.
Q: Where did the inspiration for iSAMS come from and what problems were you trying to solve?
I suppose the inspiration came from trying to move schools off legacy, client server systems, onto browser-based technology. That, ultimately, was what iSAMS was about initially. We wanted to open school management systems up more, providing data to more people in the school community.
Q: Why was iSAMS built with cloud technology from the beginning?
We wanted to build iSAMS using web technology because we wanted to enable it to be rolled out really easily, without having to install any software. So, the system just ran through a browser, which was on everybody's machine. But also, we wanted to make it very familiar, so that people felt very comfortable using it - therefore it was very easy to click on and use. That's why we did it with cloud technology.
We also wanted to future-proof the system, because that's where all technology was going at the time.
Q: How has iSAMS developed over time to keep up with the growth of our client schools?
We've moved from web technology to the cloud, so we've taken systems that were on-premise into the cloud to allow us to benefit from cloud technology and the scalability that's required there. It allows us to open it up to a lot more schools and a lot more places.
We also actively develop the system. In theory, we can release every couple of hours, but we tend to release twice a week to keep the product constantly moving and constantly developed.
Q: How does the iSAMS API benefit our schools?
The iSAMS API enables you to integrate the product into any service or system. If you want to integrate the product into a fire system, or an accounting solution, or into an admissions system, then you can do that without having to double enter the information. It saves time and makes sure the data is more accurate, and you're not breaching data protection rules, etc.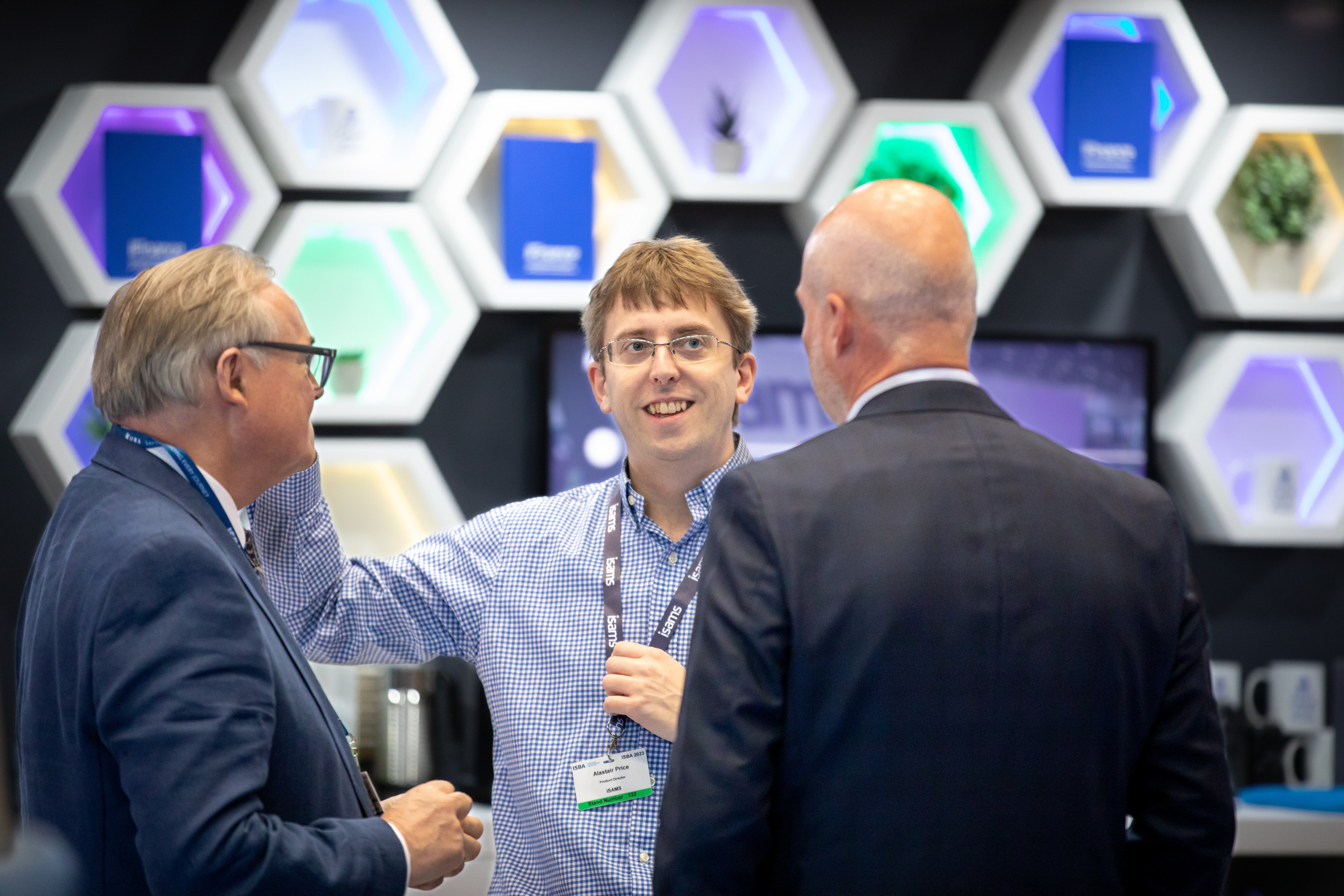 Jamie Reid, Sales Director:
Q: How have we grown as a company over the years as our number of client schools increased?
I get excited about the growth journey because it started with one school, Rugby School, and we went on to plan a business that would grow to 1,400 schools.
It's the journey. You would get excited about having 10 new clients, then it grew to 90 new clients, and you think 'how can you ever beat that?' Now, we're growing by around 200 schools per annum, which is phenomenal. I'm really thrilled by our journey; it's been a very exciting one.
Q: How do we manage to continue to offer the same level of support as our client schools increase?
Proving the support and having good support is key to the success of this business. It's a product. We have a software product, and we have a very good product, but it's all about the support. The schools are quite unique in their requirements, and we've developed our support infrastructure so that we can support more schools.
We then employ more people, obviously, and then it's about retaining those staff. We have a brilliant team and a lot of our staff have been with us for a long time and as we grow, we just keep improving things. For example, we introduced a new product called iUniversity so that we could help clients to better understand the system, thereby reducing any queries or concerns, by utilising this self-learning portal.
That's how we've grown the business. It's just making sure we maintain the levels of support to keep the schools happy.
Q: What additional measures have we put in place to support schools as we grew into the international market, as a UK-based company?
We first started working with international schools back in 2009. It was a slow start. We won 2 or 3 schools, and it started growing. Then very quickly, we realised that the international marketplace would be a significant piece of our business. Over 60% of our clients are now international schools.
We made the decision that we need to have a support office overseas, so we moved to Australia. We're now offering 22 hours of support, that's first line support, tech support, and we have a customer account manager looking after all of our schools across Asia. That's how we managed to expand as we grew internationally.
Q: How do you feel the acquisition of iSAMS by IRIS will impact the future of the company and our solutions available to client schools?
The decision to go along with the acquisition was based on the fact that it was the right time for us as a product. As the client base is evolving, as the markets evolving, people are looking for more products. So, as part of the acquisition, we're able to offer more products like HR, finance, and payments.
iSAMS always focused on the academic and admin side of the school. Now we can focus on the back office. It just means that we can give our clients a wider product range, support them better, and that was the reason that we made the decision to go with an acquisition. It allowed us to open our portfolio for our clients.
Q: What are the key goals for iSAMS as we look to the future?
Our key goals for the future are to continue to offer the best support that we possibly can – we have a reputation for having the best support. We have a really good product, but it's about opening up the product ranges, and then making sure the team behind it enjoy working at iSAMS.
We've got this family atmosphere; we want to look after our schools, and we love working with our schools, so it's all about making sure they're happy. If they're happy, we will continue to grow, and the future looks rosy!
Interested in learning more about iSAMS for your school? Watch a demo below.