We're already making ground in 2020, but before we fully embrace all the opportunities the new year has to offer we wanted to take some time to reflect on 2019 and our company highlights from the last 12 months.
Our year in numbers
As we consider how we've grown as a company and as a community with our partner schools, we wanted to highlight some of the achievements and milestones we reached in 2019 that we're most proud of:
165 new schools were welcomed into our growing community
950 schools have now chosen iSAMS as their trusted MIS provider
28 new team members joined across various different departments
The iSAMS system received an average of 48 million hits per month
128 million emails were sent through iSAMS
2,521 people subscribed to our monthly newsletter
250 staff members from iSAMS schools registered to attend our regional User Group meetings
But these aren't the only landmarks we achieved last year. We also released a variety of new features and system enhancements, the best of which we've detailed for you below.
1. Security enhancements to protect your data
Even ahead of the introduction of the new GDPR regulations, we knew we wanted to do more to give our clients total peace of mind when it came to handling their data. That's why we began working towards our ISO 27001 accreditation, which we were awarded for the second consecutive year in a row last year – but we didn't stop there…
Because protecting our clients' data is of paramount importance to us, we introduced two-factor authentication (2FA) when signing into iSAMS to help keep your account information safe. By adding an additional layer of security for your iSAMS login details, 2FA will help ensure you're the only person who can access your account.
We also launched our breached password functionality to help identify any passwords known to have been inadvertently exposed from a vulnerable, third-party system. This means that whenever a user changes their password in iSAMS, the new password is scanned and checked to see if it's been identified as high-risk. If it has, then you can either warn your users that this password is not secure and/or ask them to choose a new one instead.
---
2. New dashboards
Our new dashboard functionality means it's now even easier for each member of your school community to instantly access the information that's most relevant to them.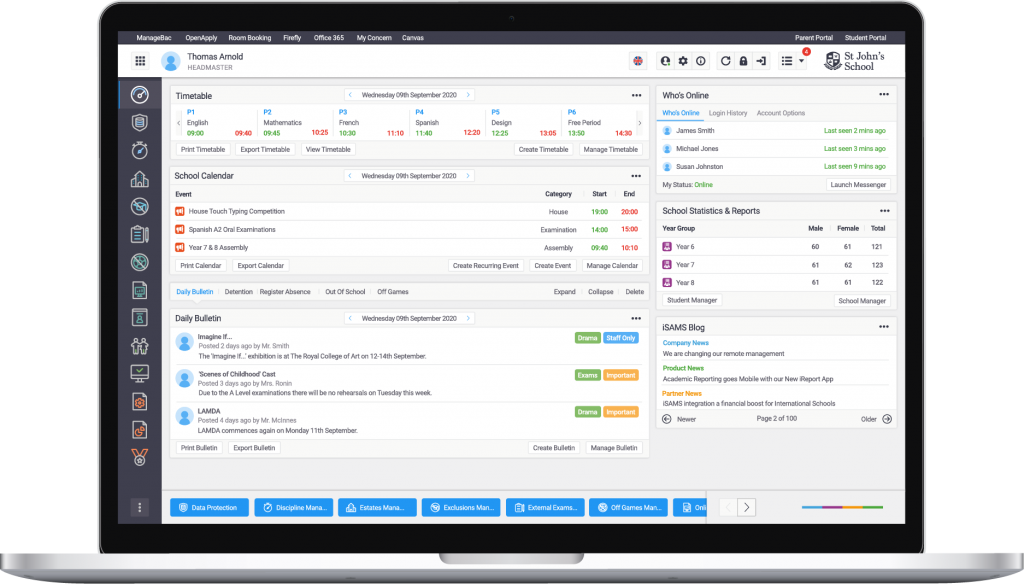 Through this enhanced feature, your Administrators can assign particular users or user groups to the iSAMS dashboard view that contains the insights they need. For example, teachers would probably find it most useful to see their timetable, the daily bulletin featuring key updates, school reports and upcoming events. Therefore, you can assign them the dashboard view containing all these details so they see them as soon as they log into iSAMS.
---
3. Online payments via the Parent Portal
Our Parent Portal was developed to provide the ultimate doorway into school life for your students' parents and legal guardians, making it even easier for them to access the information they need to keep in touch with their children's education.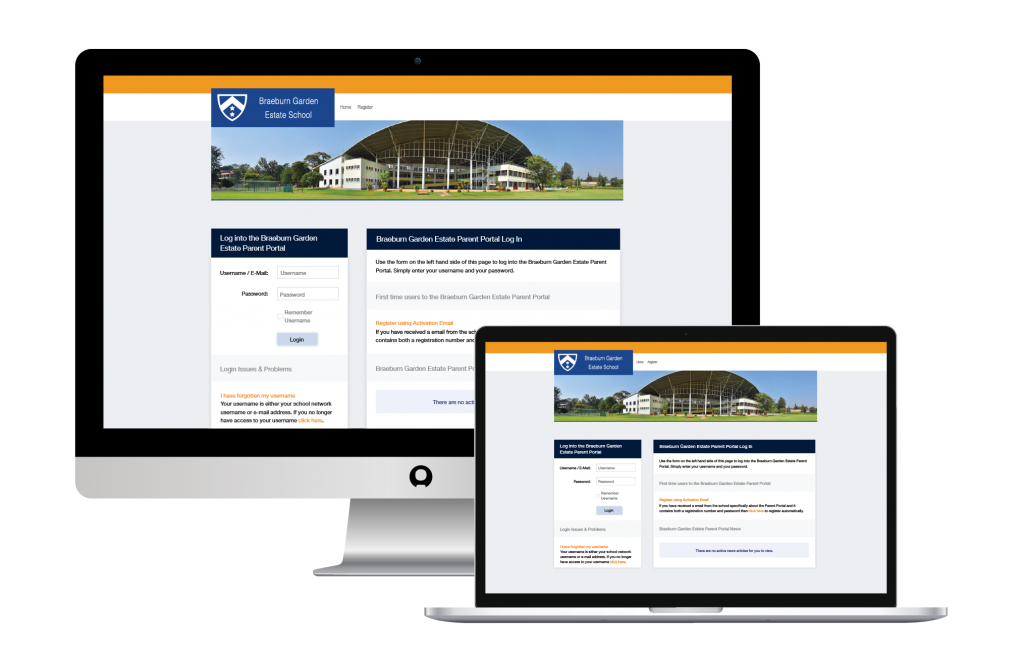 In 2019, we took this one step further by developing a feature that allows invoices to be paid directly online via the Parent Portal. Working with leading payments provider and one of our Enterprise Partners, Flywire, we've developed functionality that enables parents to: view all their invoices online, check the status of each invoices (whether they're paid, awaiting payment, if there's a transaction issue etc.), download invoices for their records and make online payments at their own convenience.
Not only does this save your Finance team crucial time, as they don't have to repeatedly resend and chase up on outstanding invoices, but it's increasingly deemed a more secure way of sharing and processing invoices.
There's also the additional benefit of greater transparency, with parents shown an overview of all past and outstanding payments and a complete audit trail enabling you to see which parents have viewed which invoices.
Through our integration with Flywire, we're able to offer this with no transaction costs for your school or parents, so parents are also able to pay for the invoices in their local currency. With this enhanced payment solution, it's now easier than ever for parents to access and address outstanding invoices from your school.
---
4. Version 2 of our multilingual apps
Originally released in 2015, our suite of multilingual apps aims to increase the accessibility of important school information for students and parents – as well as saving teachers vital time by providing an additional channel through which they can communicate with other members of the school community, all whilst on the move.
Since this initial release, technology has progressed and the requirements of our schools have evolved, and we've looked to address these changes in our updated versions of each of the Apps, continuing to ensure that our schools get the most out of our system as possible.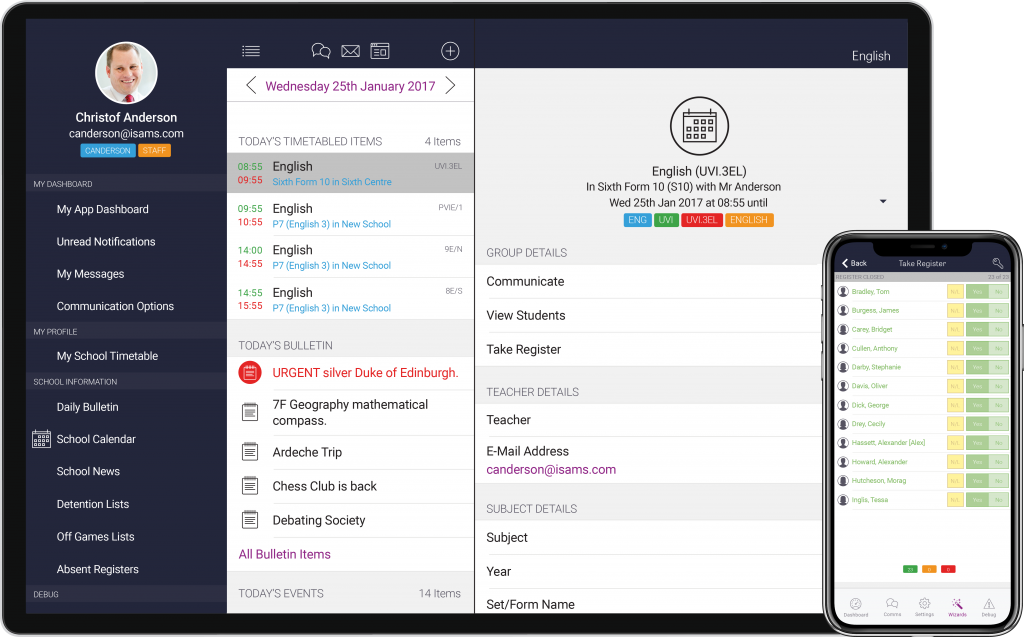 From a rejuvenated look and feel, to feature-rich enhancements to improve the overall user experience, our suite of apps (available in 9 languages) now offer students, parents and teachers an even faster and more intuitive doorway into school life than before.
---
5. Single Sign-On for our portals
Our Portals were designed to enhance communication between your school and parents and students, giving parents a much clearer picture of school life and empowering students to take control of their learning. With these dedicated Portals it's even easier to distribute key school information directly to these groups, whenever you need to and wherever they are in the world.
Last year we developed a secure single sign-on (SSO) functionality for iSAMS and additional integrator applications. In doing so, our Parent and Student Portals now benefit from our new user interface (UI) and it's even easier for these members of your school community to get hold of important updates.
But that isn't it for our Portal updates. Our Admissions Portal has also benefited from some new features, including Theme Editor. To make sure your admissions process fully supports your school's branding from the very beginning, this feature provides you with greater customisation options for your admissions form. This means that you're now able to pick your own custom brand colours, fonts, and more, and apply them across every form or individual forms as you see fit.
---
6. Feature updates to our Wellbeing Manager module
We want to ensure every student has a positive experience in their pathway to higher education, and our Wellbeing Manager is dedicated to doing just that. This bespoke module provides a comprehensive set of features to enhance the effectiveness of recording, monitoring and managing student concerns and wellbeing.
Developed to support logging safeguarding concerns and issues for students, it gives schools access to the vital information needed to provide proactive, preventative pastoral care – and our 2019 feature updates for this module aim to further facilitate this.
With our new inbuilt notifications, you're able to send important updates to selected members of your school community, ensuring that everyone who needs to keep on top of student wellbeing concerns can be instantly notified whenever a new concern, action or life event is logged or updated.
Not only this, but the introduction of Linked Concerns means that all wellbeing concerns can be recorded independently against students and yet still retain links to any additional concerns or students that may be related. In this way, you can ensure the impact and reach of each wellbeing matter is recorded even more accurately than before. Another newly added feature is the bulk update functionality, enabling you to add or remove additional Visibility Groups to Student Concerns in bulk. This means that a student's previously recorded Concerns can be made visible to a new set of form tutors or a pastoral tutor, as needed.
---
7. Improved document uploading and maintenance
Feedback from our partner schools is a very important consideration for us when looking at our development pipeline so, we were particularly excited to release several new features surrounding uploading and maintaining documents within iSAMS.
These include:
Providing parents with the ability to upload any necessary documentation to support their child's school application directly via the Admissions Portal. This includes any necessary ID, medical information, last year's grades, and more;
Allowing staff to customise detention slips when assigning Student detention, including the option to save any changes as a new template to re-use;
Creating address labels more easily, with greater flexibility and scalability when producing templates and a downloadable badge template that can be viewed before use;
Viewing and deleting previously uploaded photographs for staff members and students, as well as the current one;
Having more control over reports that have already been published with additional elements to our user interface; and
Fully support your school's branding from the very beginning of the admissions process with our new Theme Editor feature, providing you with greater customisation options for your admissions form.
---
8. Streamlining data management
Among other system enhancements, we released a new feature that updates the way student data is archived within the iSAMS system. Now your student archive data table will be automatically updated, so your school Administrators will have as seamless an experience as possible when it comes to managing vast quantities of student data.
Not only this, but another useful module update this year saw our Registration Manager enable select members of staff to delete past registrations, whether or not they contain data. By making it much easier to do this, it becomes even simpler for your Administrative staff to keep your MIS clear, structured and accurate, containing only information that is relevant for onward use.
---
9. More control over your school's exams
Our Internal and External Exams Manager modules are designed to give you complete control over all aspects of managing and administering exams, from entry right through to results.
To make this even more intuitive for your Exams Officers, we developed a new feature that will give them the ability to not only create and delete Custom BaseData, but also to copy it within our Exams Manager module. This will streamline the exam management process and save them crucial time without having to input duplicate data within the system.
---
10. Keeping updated with the latest system developments
To ensure iSAMS System Administrators are always aware of key development work, new feature released and product updates as soon as they happen, this year we launched our Vendor Alerts feature.
Providing a direct line of communication between us and your Administrators, pop-up messages will appear upon logging into iSAMS to notify you of any important developments, with the option to quickly remove them if you already know about them or simply click on them to find out more details.
---
Curious for more?
As you can see, 2019 has been a particularly busy year for us – but we're even more excited about the upcoming developments we're currently working on, which are due for release over the next 12 months. Watch this space!