It's been a very busy year for everyone here at iSAMS and we're raring to go again in 2022, but before we get there we thought we'd take a look back at some of our iSAMS highlights from 2021.
Our year in numbers
We reached some great milestones:
177 new schools were welcomed into our growing community – our largest number of new schools since iSAMS was founded.
Almost 1200 schools spanning 80 countries have now chosen iSAMS as their trusted MIS provider.
23 new team members joined across various different departments.
The iSAMS Apps hit 750k+ daily users made up of students, parents and teachers from around the globe.
We received 1300 registrations from staff members at iSAMS schools to attend our virtual User Group meetings.
Beyond the numbers, we also celebrated several brilliant new product launches as well as some special moments with our community:
---
1. We relaunched our Free Access Campaign
Following a tumultuous 2020, further waves of the Covid-19 pandemic forced schools to close their doors in January of 2021. Keen to support our community of schools in any way possible, we relaunched our 'Free Access' campaign which proved very popular in the early stages of the pandemic.

The campaign offered our client schools free use of several products and services to help them communicate effectively with parents, students and staff members, continue student learning and keep operations running as smoothly as possible during a challenging period.

Schools were given access to the following products and services:
---
2. We launched Student Registers
In February we brought a brand new concept to iSAMS with the launch of Student Registers. Not to be confused with anything associated with attendance registration, the new module functions as an electronic filing cabinet, providing schools with an audited way of grouping specific cohorts of students and then storing, accessing and reporting on this key data.

The Student Registers module includes predefined registers that support regulatory data collection requirements, as well as enabling you to create an unlimited number of custom registers containing students with a common characteristic. Some examples include sports scholarships, extended Learning Support requirements, Flexi boarding, Tier 4 visas and Covid-19 vaccinations, however in essence the scope is endless.
Watch a Q&A with Malvern College on utilising Student Registers here.
---
3. Gradebooks landed at iSAMS
Hot on the heels of our Student Registers launch, we were delighted to announce the release of a much anticipated new module – Gradebooks. Following some incredible feedback from the iSAMS community and lots of development and testing, Gradebooks was launched as the worthy successor to our Markbooks module.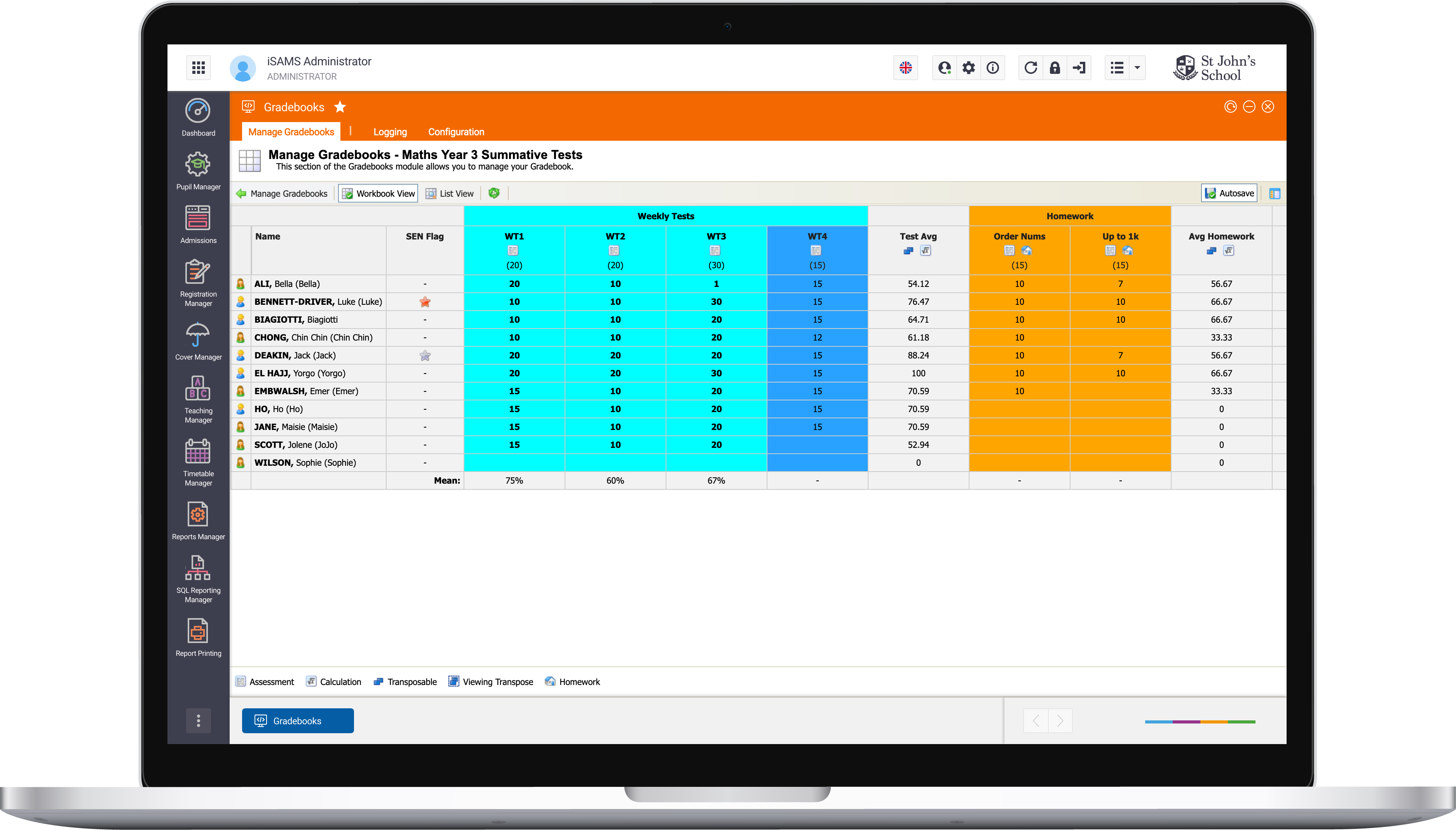 The module provides a convenient data entry system for you to enter marks and grades for students throughout the year, monitor their progress, easily set up grade calculations, share the information with students and parents and feed results into the school reports cycle and our Tracking Manager module. It offers refined data input and management, greater module flexibility to allow you to shape it to your exact needs, and enhanced permissions options to improve data security in school.
---
4. We stayed connected with virtual events
Despite the pandemic limiting in-person events during the first half of 2021, we stayed committed to engaging with our school community with a series of virtual User Group meetings, seminars and webinars across a range of topics…
Virtual Finance and HR Seminar
More than 400 guests tuned in live for our virtual Finance and HR Seminar in January to learn about our cloud-based accounting system iFinance and our brand new HR solution – iSAMS HR Pro. We'd like to say a huge thank you Marie Coles, Financial Controller at Stowe School and John Buckles, Bursar and Clerk to the Governors at Saint Ronan's School for their excellent contributions.
Migrating your MIS Virtual Seminar
Fast forward to March and more than 70 guests joined us for our Migrating your MIS virtual seminar. On offer were top tips and best practice for migration projects, a presentation on the tried and tested iSAMS approach, and some incredible Q&A sessions with recently migrated iSAMS schools.
We were delighted to be joined by IT and Operations Manager Lachlan Addison and Director Brenton Hall from the Australian International School Bangkok, as well as Anna Millar, Director of ICT at Edinburgh Academy, who shared their experiences of migrating to iSAMS.
Watch the Q&A with Australian International School Bangkok here.
Virtual User Group Meetings
Following the great success of our first ever virtual User Group meetings in 2020, we continued the trend in 2021 with two more in May and November. Covering new module launches, how-to-sessions, interviews with client schools and much more, our virtual User Group meetings look set to continue into 2022 after we received a staggering 1,300 registrations across both days.
Cybersecurity webinar
Following a large uptick in cyberattacks and scams targeting the education sector in the last 18 months, we ran our very own free-to-attend cybersecurity webinar in October – this year's Cyber Security Awareness Month.
We were delighted to welcome keynote speaker Sarah Armstrong-Smith, Microsoft's Chief Security Advisor, who specialises in guiding businesses through digital attacks and teaching organisations how to protect their data, as well as iSAMS Managing Director Alastair Price, who provided an overview of the measures in place to protect iSAMS schools.
---
5. In-person events made a comeback
One of the absolute highlights of our year was being able to attend events in person again. There's nothing better than hitting the road with our trusty coffee machine in tow, seeing old faces, meeting new ones and having proper conversations over a hot drink. It's the thing we missed most during the pandemic and we're excited to attend more events in 2022 to show everyone what we've been working on.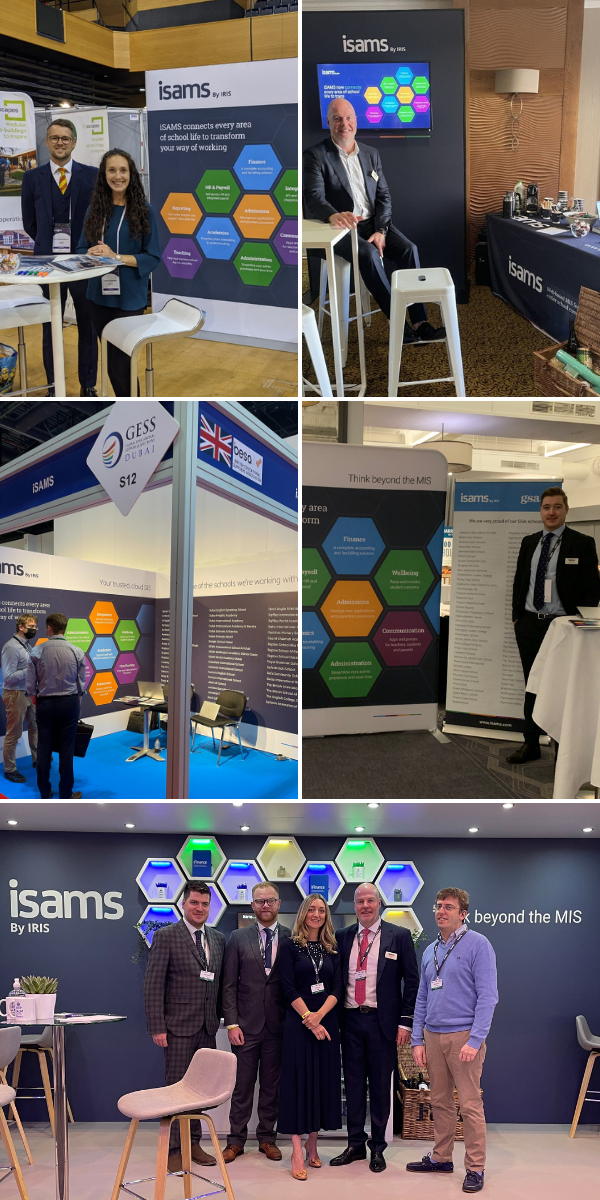 Our first event for nearly 18 months saw us head to Bournemouth International Centre for the IAPS Annual Conference. We made it to the ICC in Wales not once but twice, for the HMC Autumn Conference and the ISBA Annual Conference, as well as the GSA Conference for Heads in Manchester. We even made it over to Dubai, where we held a regional User Group meeting for our client schools and attended the GESS Dubai conference.
---
6. Push notifications for our iTeacher, iStudent and iParent Apps
Push notifications are an excellent way of communicating with your school community by providing quick updates to students and parents, keeping parents in the know about their student's school careers and helping to guide staff through the publication stages of a news or bulletin post.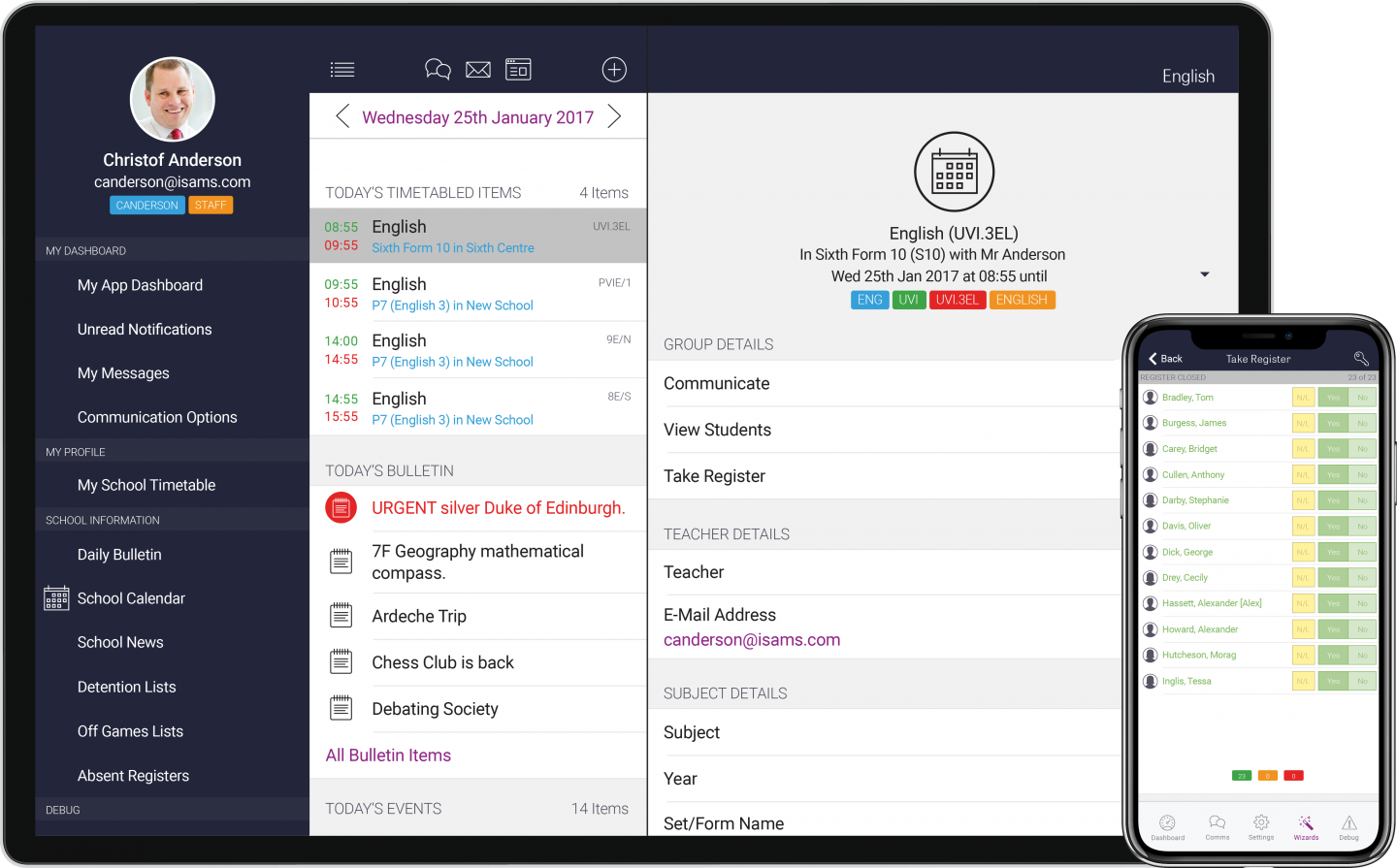 As part of our ongoing efforts to ensure our iTeacher, iStudent and iParent Apps are the best they can be, we completed a review of all push notifications generated by iSAMS modules. Following this, we made a number of changes to existing notifications and added some additional notifications from several modules, greatly enhancing the user experience.
The upshot of these new notifications is greater control over how you can communicate throughout your community, by tailoring notifications to students, parents and teachers.
---
7. iUniversity – a dedicated platform for online learning
Over the years, we've developed iSAMS to be as flexible as possible, whether you're logging on from home or taking the register out on the sports field via the iTeacher App. Our next goal was to offer easy access to learning resources, so we set about creating a dedicated platform to help school staff hone their skills. We launched iUniversity to give staff instant access to interactive training courses on a range of iSAMS topics from wherever they choose, at a time that's convenient for them.
iUniversity provides engaging content to help staff explore their iSAMS desktop, navigate and personalise their dashboard and module bar, discover the most useful iSAMS wizards and use iSAMS on the go with the iTeacher app.
We're also looking forward to releasing lots of new features for iUniversity in 2022:
Pic 'n' Mix – Learn your own way. Pick and choose the courses you are most interested in across our suite of modules.
Module Deep Dive – Want to know everything about a module? Take a deep dive to learn about everything from configuration and data storage to best practices and case studies.
Role-based learning – Follow a learning pathway of the most valuable courses for your job role.
Certifications – Think you know your stuff? Prove it with a range of iSAMS certifications.
---
8. Admissions Cloud Portal: phase one launch
In November we announced the phase one launch of our brand new Admissions Cloud Portal, designed to help your school show off all the fantastic things you have to offer and make applying and tracking applications as easy as possible for prospective parents.
The Admissions Cloud Portal enables you to create one or more dedicated websites for applications to each division of your school, whether that's Prep School and Senior School or different campuses. Each website is fully branded with your theme and logo and features a range of customisable widgets so you can provide the information that is most relevant to your school.
Parents can create an account to log in and track applications, and thanks to its mobile responsive properties this is just as easily done using a mobile or tablet. Behind the scenes, your admissions staff can access detailed insight into user behaviour with Google Analytics. There's plenty more to come for the Admissions Cloud Portal in 2022, so watch this space!
---
9. We launched our own payment gateway - iSAMS Payments
In November of 2021, we announced the launch of iSAMS Payments, our very own payment gateway. With iSAMS Payments, we have built a number of new features to enable our schools to access all the functionality of a normal payment gateway, brought together in one convenient place – iSAMS.
In recent years, cybercriminals have targeted parents by masquerading as school staff members and requesting payments be made via bank transfer. iSAMS Payments offers a secure method to request fees from parents, protecting parents and schools from this kind of scam.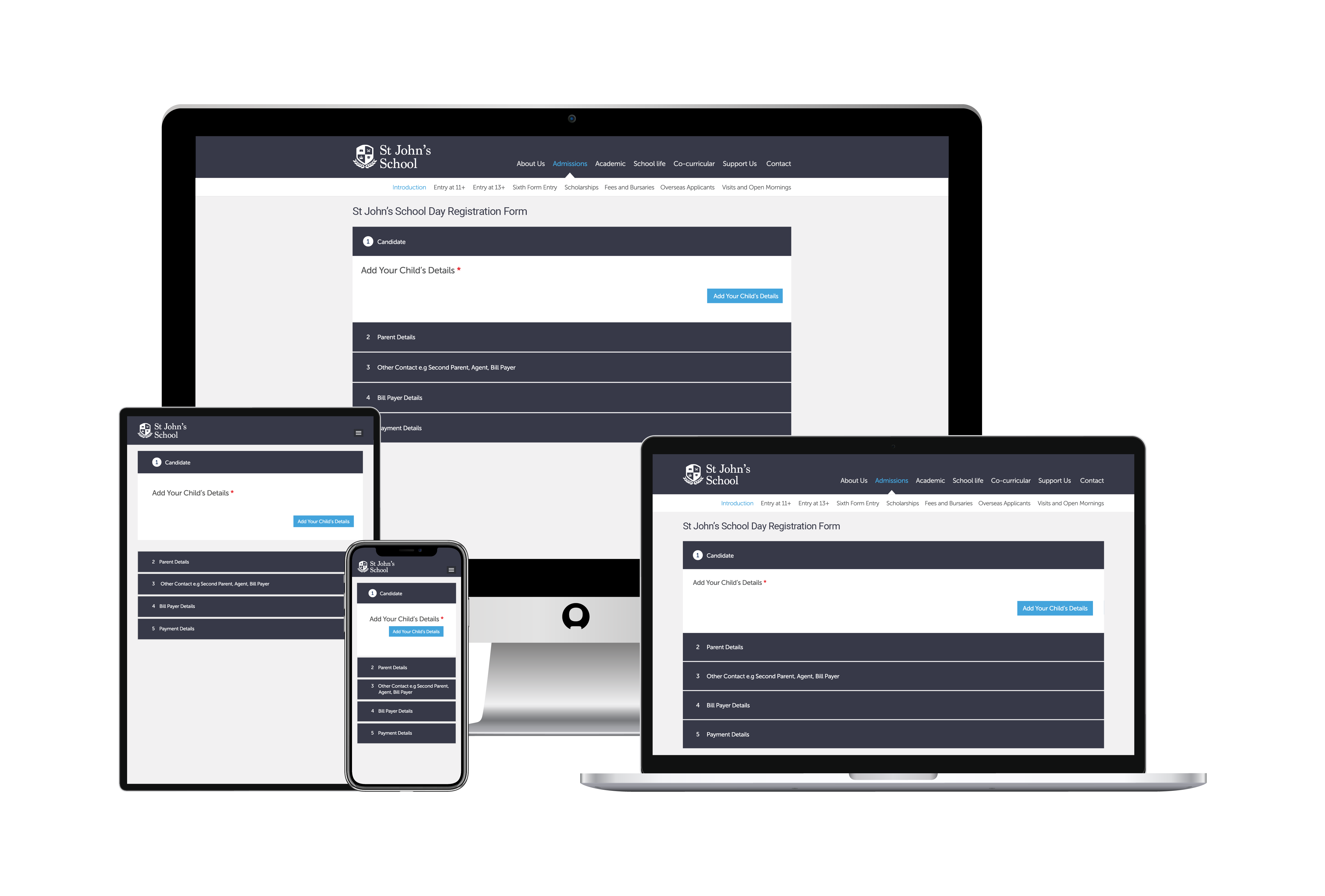 iSAMS Payments offers the following additional benefits:
Significantly more integration options than other payment gateways.
Full integration with the Admissions Portal and Parent Portal to enable parents to quickly and safely pay registration fees and invoices.
Central logging of all payments within iSAMS.
The ability to make refunds directly within iSAMS.
The option to make payments into multiple bank accounts.
Streamlined processing of payments, reducing the administrative burden on school finance teams.
---
10. Multi-Divisional Timetables
Multi-Divisional Timetables is a feature that enables schools to create multiple 'divisions' within the school, and thus create separate registration rules for each 'division'. This is particularly useful for schools with multiple campuses or tiers such as 3-18 schools. Each division of the school can now have AM and PM registrations as well as create their own lesson by lesson registrations.
With Multi-Divisional Timetables enabled, teachers can now also be assigned to one or more divisions in our HR Manager module. This in turn filters through to cover arrangements, meaning teachers assigned to the Senior School will not be shown as a cover option for Prep School. If a teacher is capable of covering multiple divisions such as Prep and Senior School, they can be selected for either division. The system will also check all divisions to ensure they are not teaching elsewhere before offering them as a choice for cover.
---
We hope you had a great 2021, we're looking forward to lots of new releases coming in 2022!